Bandung – Universitas Budi Luhur (UBL) berkolaborasi dengan Universitas Gadjah Mada, Universitas Diponegoro, Universitas Sriwijaya, Universitas Ahmad Dahlan, Universitas Islam Sultan Agung, Universitas Muhammadiyah Malang, Universiti Teknologi Malaysia dan Institute Advance Engineering and Science (IAES) Indonesia Section menggelar 6th International Conference on Electrical, Computer Science and Informatics 2019 (EECSI 2019). International Conference ini mengambil tema "Bridge Toward Industrial Revolution 4.0 and its Applications on Electrical, Electronics, Computer Science and Informatics for Humanity".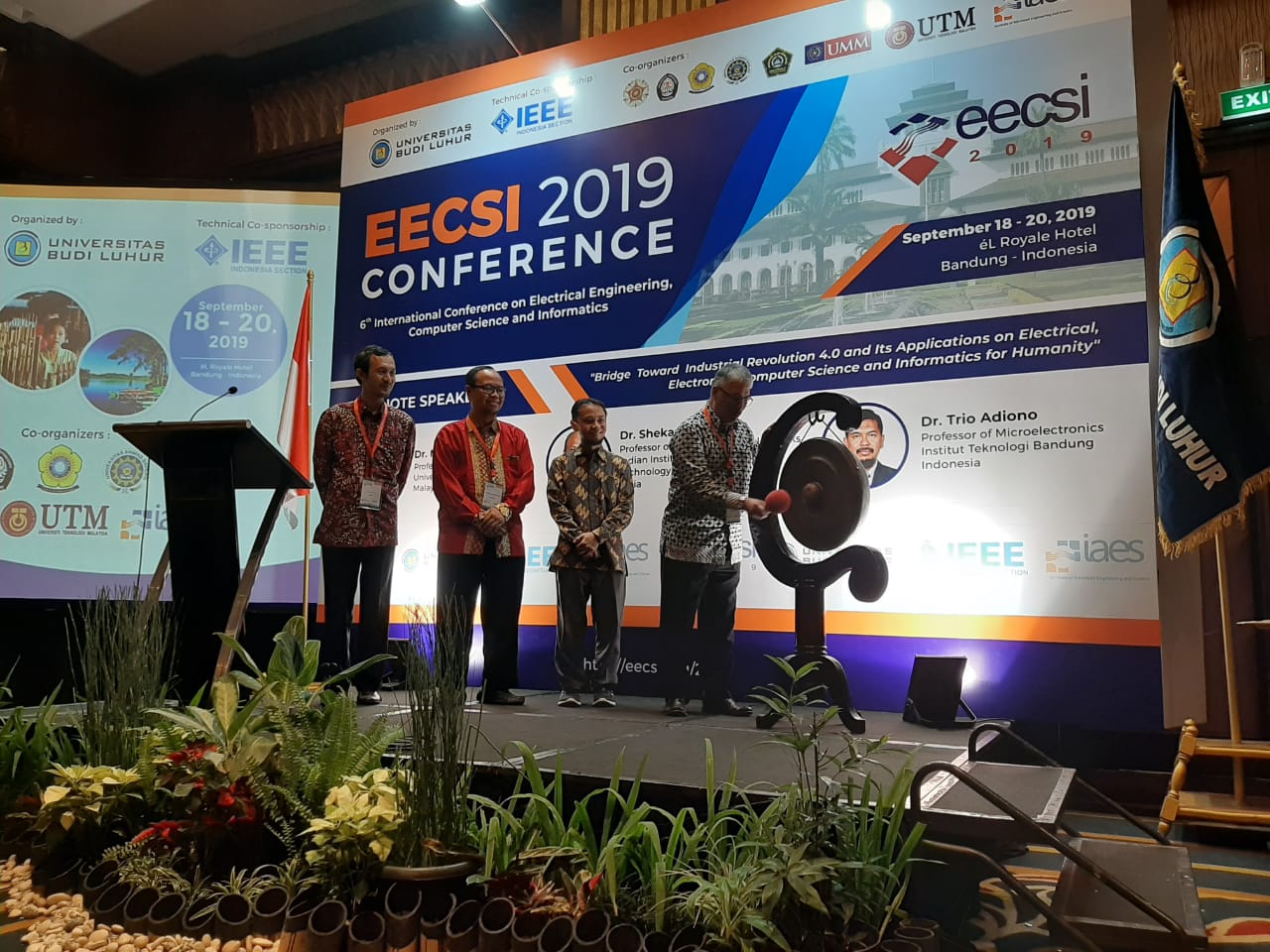 Tema ini dipilih karena Revolusi Industri 4.0 diperkirakan memberikan dampak besar terhadap kehidupan masyarakat. Berbagai pendapat tentang dampak Revolusi Industri 4.0 pun bermunculan. Mc. Kinsey Global Institute memprediksikan 800 juta pekerja akan kehilangan pekerjaannya. Sementara ada pihak lain yang justru optimis bahwa generasi millenial memiliki kesempatan untuk mencoba perusahaan rintisan (start up) di berbagai bidang.
Berkaitan dengan penyelenggaraan Konferensi Internasional EECSI 2019 ini, Dr. Wendi Usino, M. Sc. Plt Rektor Universitas Universitas Budi Luhur menyampaikan.
"Joko Widodo 13 Agustus 2019 lalu mengesahkan UU No 11 tahun 2019 Sistem Nasional Ilmu Pengetahuan dan Teknologi (Sinas Iptek). UU bertujuan mendorong terintegrasinya riset yang ada di berbagai lembaga dan meningkatkan kontribusi iptek bagi pembangunan nasional. Artinya kolaborasi pelaksanaan riset maupun penyelenggaraan konferensi riset berbagai lembaga seperti yang hari ini dilakukan penting dilakukan."
Sedangkan tentang tema konferensi ini Wendi menyampaikan "Saya menekankan faktor 'humanity' dalam conference ini, karena sesuai dengan nilai-nilai kebudiluhuran yaitu: love – cinta kasih, compassion – welas asih, sympathy – simpati, empathy – empati."
EECSI 2019 yang digelar di El Hotel Royale, Jl. Merdeka No.2, Braga, Bandung, pada 18 September 2019 menghadirkan 3 pembicara kunci, yaitu:
1. Prof. Dr. Naomie Salim dari Universiti Teknologi Malaysia, Malaysia yang menyampaikan "Deep Learning Approaches for Big Data Analysis."
2. Prof. Dr. Shekar Verma dari Indian Institute of Information Technology, Allahabad, India yang menyampaikan "MAC for Internet of Things (IoT)."
3. Prof. Dr. Trio Adiono dari Institute Teknologi Bandung, Indonesia yang menyampaikan "A Real-Time Visible Light Communication System on Chip (SoC) Design for High Speed Wireless Communication."
Dr. M. Syafrullah selaku Ketua Panitia mencatat 83 makalah hasil riset dari 13 negara, 3 benua, telah lolos seleksi panitia dipresentasikan dalam konferensi internasional ini. Negara asal peserta yang tercatat dalam konferensi ini yaitu: United Kingdom, Denmark, Russia, Australia, Taiwan, Nepal, Yordania, Irak, Pakistan, Srilangka, India, Malaysia dan tuan rumah Indonesia. Moh. Facta Ph.D. atas nama Institute Advanced Engineering And Science (IAES) Indonesia Section dalam Gala Dinner EECSI 18 September 2019 menyampaikan penilaian karya-karya terbaik sebagai berikut:
Best Paper Award adalah
1. Design and Implementation of MPC for Energy Optimization of Boiler in Batch Distillation Colum. Karya: Handy Harjamulya, Pranoto Rusmin, Egi Hidayat, Arief Syaichu Rohman – Institut Teknologi Bandung.
2. Optical Studies of Er-doped Yttrium Alumunium Garnet Phospor Materials. Karya: Nurhakimah Norshashim – Universiti Kulala Lumpur Malaysia, Malaysian Institute of Aviation Technology Malaysia; Shakiba Kaveh and Anthony Cheetam – Chambridge University, United Kingdom; Richard Curry – University of Manchester, United Kingdom.
3. Comparison of PIC and SIC with Lattice Reduction cancellation schemes for V-VLAST MIMO system. Karya: Evgeny Goncharov dari JSC "SDNSoft", Skolkovo Innovations Center, Russia.
4. Gesture Recogniton by Learning Local Motion Signatures using Smartphones. Karya: Prachi Agarwal, Sanjay Kumar Sonbhadra, Sonali Agarwal and P Nagabhushan – Indian Institute of Information Technology, Allahabad, India; Muhammad Syarfullah, Krisna Adiyarta – Universitas Budi Luhur, Jakarta Indonesia.
4. Hybrid Improved Differential Evolution and Spline-based Jaya for Photovoltaic MPPT Technique. Karya: Khusnul Hidayat, Rini Nur Hasanah, Hadi Suyono – Universitas Brawijaya, Malang.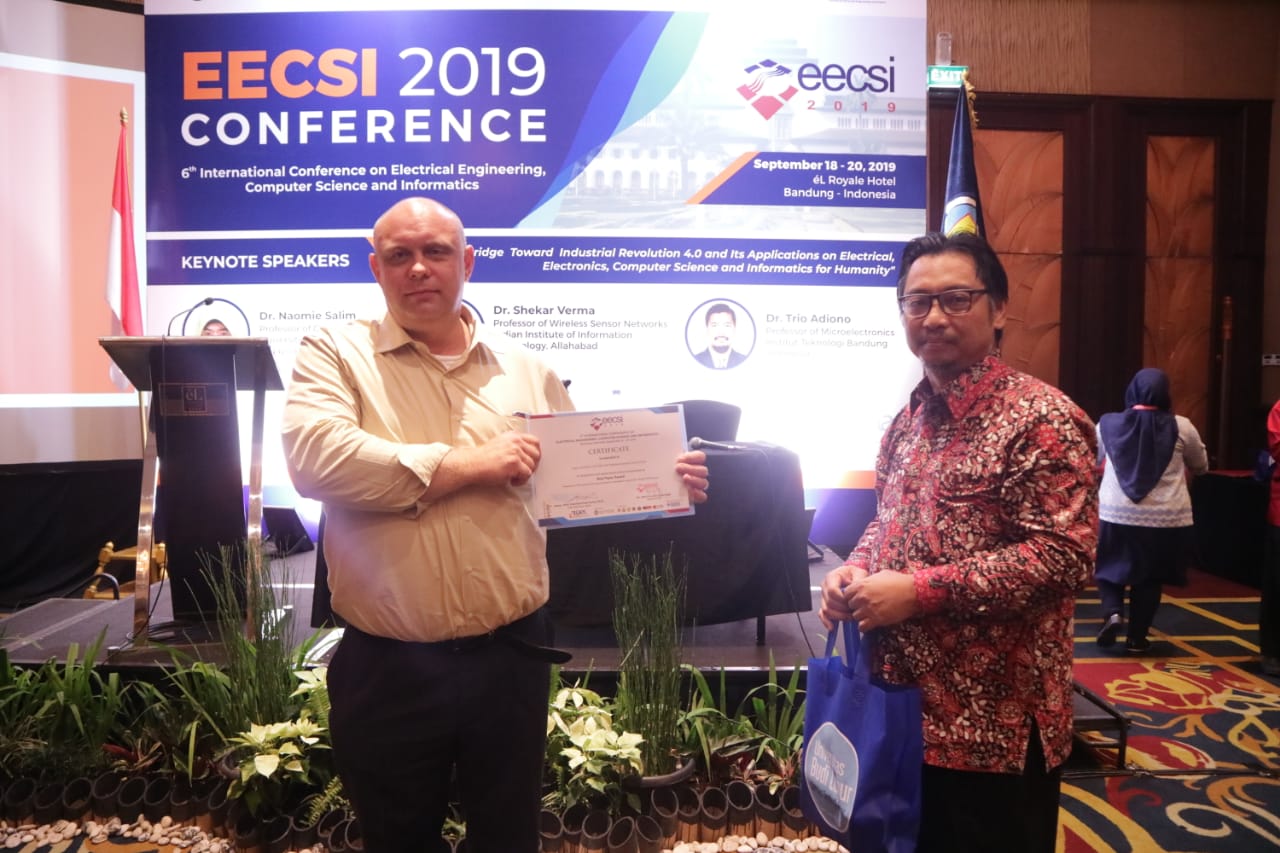 Best Student Paper Awards:
1. Detection of EEG Signal Post-Stroke Using FFT and Convolutional Neural Network. Karya: Esmeralda Contessa Djamal, Widiyanti Furi, dan Fikri Nugraha, Universitas Jenderal Achmad Yani, Indonesia.
2. Privasi Control in Social Network by Trust Aware Link Prediction. Karya: Syam Dhannuri, Sanjay Kumar Sonbhadra, Sonali Agarwal dan P. Nagabhushan – Indian Institute of Information Technology, Allahabad, India; Muh. Syarfullah dan Krisna Adiyarta – Universitas Budi Luhur.
Best Presenter Awards:
1. An SoC-Based System for Real-time Contactless Measurement of Human Vital Signs and Soft Biometrics. Karya: Aminuddin Rizal – Universitas Multimedia Nusantara Indonesia; Kuan Ting Chiang, Jia Wei Lin, dan Yuan Hsiang Li – National Taiwan University of Science and Technology, Taiwan.
2. Boosting E-Service Quality through IT Service Management of Online Stores. Karya: Sandi Kosasih – STIMIK Pontianak Indonesia. Vedyanto – Santo Petrus Junior High School; dan I Dewa Ayu Eka Yudiali – STMIK Pontianak Indonesia.
3. Performance Analysys of Smartphone-based Mobile Wi-Fi Hotspots Operating in a Congested Environment. Karya: Osama M.F. Abu-Sharkh – Princess Sumaya University for Technology, Jordania.
SALAM BUDI LUHUR!!!